George… "You need to start a foundation"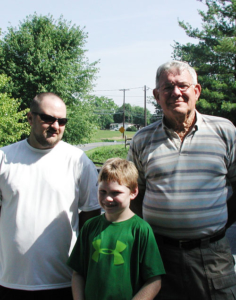 George Brown
Hi, I am 81 and and I have had cystinuria for 60 years. I have been fortunate to have doctored with some of the best.
My journey started at the National Institutes of Health on the protocal for D-penicillamine and later on Thiola. I tested both medications before they were released by the FDA to the general public. My travels have taken my to the Mayo Clinic, NYU , St. Vincents Hospital, Lenox Hill Hospital , both in NYC and now to Medical University of South Carolina among other hospitals.
I doctored under both Dr. David Goldfarb, nephrologist, and Dr. Michael Grasso, urologist. Both doctors are known the world over. In 2004 Dr Goldfarb urged me to start a foundation, the ICF was formed in 2005 at our 1st Symposium held in NYC. We have held Symposiums in NYC, Chicago and Dallas. After the 2016 Symposium in Dallas I retired from the Presidency of the ICF and turned the reins over to Gayle Sweeney who has moved the ICF forward.
The picture depicts over 100 years of stone formation between us. This was from a walk for Cystinuria on the first Cystinuria Awareness Day.