Living life to the fullest despite having Cystinuria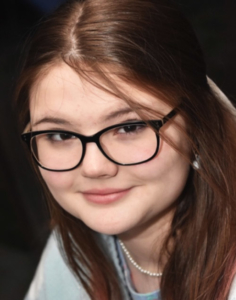 If you hear Sophie Popham talk about Cystinuria, you might not think kidney stones are all that painful. Not because kidney stones don't cause excruciating pain, but because the outgoing, energetic 15-year-old, who was diagnosed with Cystinuria less than two years ago, is more excited about living her life to the fullest than worrying about the disease.
Sophie is a freshman at Waggener High School in Louisville, Kentucky, and a straight-A student. It all started one day in February 2020 with what she describes as "a weird back pain" that landed her in the emergency room right away. After that ER visit, it took 2 to 3 months of doctors' appointments to get the right diagnosis, which was quickly followed by a surgery that revealed multiple stones in both kidneys. Sophie didn't think much of the surgery at the time and likes to say that she only remembers wanting Taco Bell when she woke up from the anesthesia. The second surgery two months later was different — the placement and removal of ureteral stents, she said, was extremely uncomfortable. She knows more surgeries are ahead.
Sophie and her entire family soon learned all about Cystinuria, a condition they had never heard about before: a rare, debilitating genetic disorder characterized by frequent and recurrent kidney stone formation. They learned that there is no cure, and that people with the disease can expect a lifetime of producing kidney stones and dealing with the associated pain. Sophie feels pain every day and some days, she says, it is really bad. Regardless of how she is feeling, she stays active every day. When she is not studying, she is busy playing volleyball, learning about string instruments like the violin and the guitar, and playing the cello. She wants to be a high-school music or English teacher and is already taking college courses. Her next goal is to become a Gold Award Girl Scout. Except for too many doctor appointments, she says, life goes on.
Earlier this year, Sophie's little brother, Finley, 7, was also diagnosed with Cystinuria through genetic testing after ending up in the emergency room. They are a team now, and Sophie helps him by always telling him what to expect. She reminds him to drink water and sometimes they take water breaks together.