Living with Cystinuria for 44 years, and I'm one of the lucky ones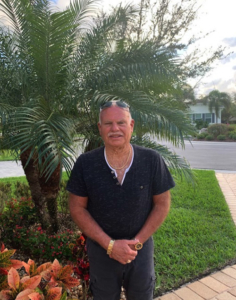 Bruce Weisberg has lived with Cystinuria for 44 years, and he says he is one of the lucky ones. Although he has undergone four surgeries, with two of them in the last four years, he says this is nothing compared to what many others go through. It is not uncommon for people living with Cystinuria to be hospitalized several times a year.
Cystinuria is a rare, debilitating disease characterized by the frequent and recurrent formation of kidney stones. The disease affects 1 percent of adults with kidney stones. It is an inherited disorder, and Bruce's sister also has Cystinuria.
Bruce was diagnosed in 1978 when he was a college student in the Boston area. Back then, he says, not much was known about Cystinuria, and the only available treatment option was potassium citrate. The potassium citrate was mixed at the local pharmacy in a bottle that he had to carry with him whenever he went out. It also had to be refrigerated, so he had to schedule his outings accordingly. Treatments are much better now, he says. The medication he is currently taking, which works to bind the substance that makes kidney stones and prevent it from building up and forming stones, has worked well for years. Managing Cystinuria has also required him to make a few adjustments to his diet: drinking more water, reducing salt, and eating less meat.
After starting out in the hospitality business and then working for more than 33 years in the banking industry, Bruce moved to Boynton Beach, Florida with his husband, Serge. When they moved, it took Bruce some time to find the right nephrologist, one that he felt knew more about the disease than he did. Today he is happy with the care he receives, which includes scheduling CT scans, laboratory testing and other routine procedures every six months. "Cystinuria ends up being part of your life, but you can't let it be your life", Bruce says. "You still get up every day, go to work, and live your life".
Cystinuria is also a family matter, and while Bruce is pretty good about taking his medications, sometimes he needs a push from his husband to make sure he drinks 80 to 100 ounces of water every day. Having the disease can also be a financial burden. Without insurance, he said, it would be difficult to afford the medications, hospitalizations, procedures, and other expenses that come with Cystinuria. He says, "It is important that patients can have access to the treatments they need."
To those recently diagnosed, Bruce recommends joining the International Cystinuria Foundation Facebook group. Cystinuria can be very lonely, he says, and joining the group years ago has helped him to feel more supported. "In the past, it was impossible to find support groups or other people with the disease. Now you can share your experiences with others, ask questions and interact with patients, caregivers, and families with no judgment."
Bruce wants to help educate and raise awareness about Cystinuria to promote research, improve treatments and find a cure. This year, he is working with the Governor's Office to request a Proclamation declaring June 23 Cystinuria Awareness Day in Florida.