A Patient's Story: Michael Eckstut (New Jersey)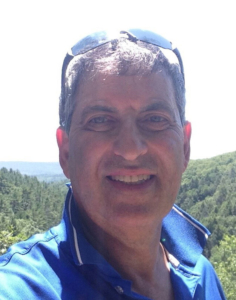 Skillman resident Michael Eckstut, 69, enjoys a full and rewarding life in his roles as a husband, a father to three grown children, and a successful executive at a pharmaceutical services company. Although you wouldn't know it judging by his active lifestyle and positive outlook, Michael has also lived his entire life with the diagnosis of a rare, largely unknown disorder called Cystinuria.
Affecting about 1 in 10,000 people, Cystinuria is characterized by frequent and recurrent kidney stone formation. It affects men and women equally and is a lifelong, chronic condition.
With the observance of Cystinuria Awareness Day held each year on June 24, Michael has chosen to share his story and become an advocate for others who have Cystinuria as a way to "help patients and educate a broader community." Michael recently worked with the office of New Jersey Governor Phil Murphy to officially have June 24 officially proclaimed as Cystinuria Awareness Day across the Garden State.
Although many people with Cystinuria endure a long road to getting a correct diagnosis, Michael was diagnosed at birth when stones were found in his kidneys. This discovery, combined with the knowledge that his father had Cystinuria, a genetic condition that runs in families, made Michael's diagnosis a quick and early one.
Living with Cystinuria can be painful and debilitating. Michael, however, emphasizes that he has lived comfortably with the disorder his whole life and wants to share his story to offer hope. He says, "Because I was born with Cystinuria, received treatment early and made the necessary but in reality, relatively minor changes, I think I have lived as normal a life as possible. I am by nature a positive person; Cystinuria has not taken that away from me nor has it stopped me from living a full and active life."
Cystinuria does not currently have a cure. Treatment is designed to manage the condition and mainly focuses on drinking water, reducing salt, and limiting foods that are high in methionine, such as red meat and white flaky fish. Medication can also help reduce the formation of cystine stones.
For Michael, treating and managing Cystinuria has involved "adhering to a diet that is compatible with requirements, drinking lots of water, looking for bathrooms during outings, taking my medicine, taking annual tests and making the occasional trip to the doctor to remove stones."
Michael offers this advice for those who are at the beginning of their journey of being diagnosed with Cystinuria: "Do not get discouraged. It is very manageable. Don't think of being limited or think of yourself as a victim." He wants people to know that "Cystinuria can be managed and it is possible to live a "close-to-normal" life. "There is very little you can't or shouldn't do – job, athletics, family, travel – go for it!"
More information about Cystinuria can be found on the following websites: